Sewing is a timeless talent that's not just about creating functional garments and accessories but an art form to express creativity and personality. Sewing enthusiasts, whether beginners or experts, often seek new ways to elevate their craft. One of the basic principles of mastering sewing is choosing the right sewing threads. These are specialised threads made from fine fibers, often used for adding decorative elements to sewing projects.
Sewing thread yarns come in a variety of types, thicknesses, and materials, making them versatile for a wide range of creative applications. This blog will cover the importance of using specialised threads and some tips and tricks to master sewing with sewing thread yarns.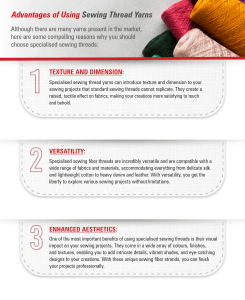 Tips and Tricks to Master Sewing with Sewing Thread Yarns
Now that you know the advantages of using specialised sewing threads, here are some of the tips and tricks you can use to enhance your sewing projects:
1.     Setting Up Your Sewing Space
Before diving into sewing, it's of utmost importance to establish an organised and efficient sewing space. A well-thought-out sewing environment can significantly enhance the quality of your work. A cluttered and disorganised space can disrupt your workflow, leading to stress.
When all your tools, materials, and equipment are easily accessible and well-arranged, you spend less time searching for what you need and more time actually sewing.
2.     Fabric Selection and Preparation
The choice of fabric is a critical factor that can significantly influence the outcome of your sewing project. It is the foundation upon which your design and construction skills are built. Project suitability also comes into play when selecting fabrics. Similarly, different fabrics require different stitching techniques. Some fabrics, like flannel, are easier for beginners to work with than silk. Also, make sure you pre-wash the fabric before sewing, as some have the tendency to shrink post-wash.
3.     Understanding Sewing Techniques
Sewing techniques are the building blocks that enable manufacturers to create garments, accessories, and home decor with professionalism and precision. The choice of the technique can greatly impact the overall design, functionality, and appearance of the clothing. Whether it's choosing a tailored technique for formalwear or applying specialised seams for durability in activewear, each technique plays a pivotal role in achieving the desired outcome.
Here, you can use versatile yarns specially made for manufacturing sewing thread like   , recycled yarns, or high-tenacity Nylon 6 yarns by AYM Syntex, which offer uniform crimp and softness. These are suitable to make CFP sewing threads, poly poly core spun, sewing thread, polycotton sewing thread, nylon twisted yarn, etc.
 Final Thoughts
Mastering sewing with sewing thread yarn is a rewarding journey that can lead to the creation of beautifully crafted garments. On this journey, AYM Syntex can be your trustful companion, offering a wide range of products that will match your every need. Now, armed with the knowledge of the advantages of using specialised sewing threads, you are ready to explore the colourful world of stitching.